Welcome Message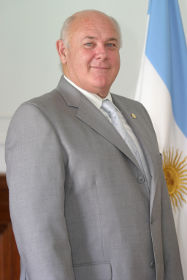 It gives me great pleasure to welcome you to the 53rd. International Mathematical Olympiad, hosted by Argentina, to be held in 2012 in the city of Mar del Plata.
The University of Buenos Aires is proud of the honor of hosting the Olympiad together with the National Ministry of Education and the National Ministry of Science, Technology and Productive Innovation, and directed by the Argentine Mathematical Olympiad Foundation.
Above all, we live this major youth event with a contagious enthusiasm; this more than half-century of competitions has demonstrated that here mathematical problems are simply a means, an instrument: the true objective is to give rise to a festival of ingenuity, creativity and solidarity, sharing the language of numbers, which is as universal as the language of music.
"Mathematics – said Bertrand Russell - is not only the holder of truth, but of a certain supreme beauty." High-school students, the thousands of adolescents which participate in their National Mathematical Olympiads in over one hundred countries, giving rise to the scores of teams that converge at these international meetings, have began to feel fascinated by that beauty which will doubtlessly serve them as an intellectual and ethical passport to enter the adult world.
We, the adults, teachers, education managers, government officials, and scientists, are more than just simple hosts and organizers. We are also privileged guests to the always amazing although expected, always new and original spectacle of algebra and geometry cruising with freshness, grace and audacity through young minds.
For that reason, my words of welcome to the students, their teachers and the jurors is also a message of gratitude for the spirit of knowledge, imagination and respect that they come to share with us.
Thank you, good luck and my best wishes for success to everybody!
Ruben Hallu
Rector of the University of Buenos Aires
---
Mensaje de bienvenida
Con mucho placer les doy la bienvenida a la 53ª Olimpíada Matemática Internacional, de la que la Argentina es país anfitrión y que se celebra en 2012 en la ciudad de Mar del Plata.
La Universidad de Buenos Aires vive con orgullo el honor de patrocinar la Olimpíada junto con los Ministerios de Educación y de Ciencia, Tecnología e Innovación Productiva de la Nación, y bajo la dirección de la Fundación Olimpíada Matemática Argentina.
Por sobre todo, vivimos esta gran jornada de la juventud con entusiasmo contagioso; este largo medio siglo de competencias ha demostrado que los problemas matemáticos son aquí un medio, un recurso, pero que el objetivo es producir una fiesta del ingenio, de la creatividad y la solidaridad, compartiendo el lenguaje de los números, tan universal como la música.
"Las matemáticas – dijo Bertrand Russell - poseen no sólo la verdad, sino cierta belleza suprema" Los estudiantes de la escuela media, los miles de adolescentes que en más de cien países participan en sus Olimpíadas Nacionales de Matemática, de donde surgen las decenas de equipos que convergen en estos encuentros internacionales, han empezado a fascinarse con esta belleza que, sin duda, les servirá de pasaporte intelectual y ético para ingresar al mundo adulto.
Nosotros, los mayores, los docentes, los gestores educativos, los gobernantes, los científicos, somos más que simples anfitriones y organizadores. Somos también invitados de privilegio al espectáculo, no por esperado menos asombroso, siempre nuevo y original, del álgebra y la geometría circulando con frescura, con gracia y con audacia en las mentes jóvenes.
Por eso mi bienvenida a los estudiantes, a sus profesores y a los jurados, es además un mensaje de gratitud por el espíritu de conocimiento, imaginación y respeto que vienen a obsequiarnos.
¡Gracias, buena suerte y éxito para todos!
Ruben Hallu
Rector de la Universidad de Buenos Aires